I've put together mattotto.org blog lessons 1 through 22 in a 60 page, 8.5 by 11, spiral bound book for easy reference.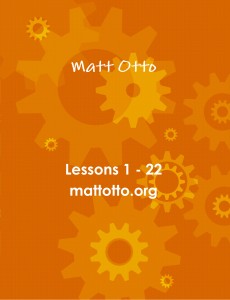 I did omit the Long Tone and Drone exercises since they don't include written material, but I've expanded the Rhythm Changes etude to include all 12 keys and added a major scale study as well.
Here' a link to purchace the book:
This book includes my blog posts on studies in…
Spread Triads
Fourths
Rhythm Changes
13th Chord Arpeggios
Major 7 #5 Chords over Dominant 7ths
ii-V-I using triads
Voicing Based Melody
Whole Tone Melody
Spread Triads Embellished
Lydian Melody in 5ths.
Diminished Melody
Intervalic Melody
Major 7 with #9 and #11
ii-V-i using Chromatic Scales
…and more. Each study is written in all 12 keys.