In this lesson we will look at a melodic pattern derived from the (classical) Augmented Scale (not to be confused with the whole tone scale).  This scale, which we studied in  Lesson 7 , Lesson 56 and Lesson 70, is comprised of the following notes:  1, #9, 3, 5, b13, and maj 7.   In the key of C this is:  C, D#, E, G, Ab, B, C.  This scale is unique in that it works over major, minor and dominant 7th chords.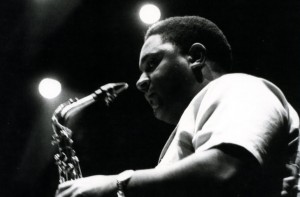 The scale, based in C works over C major 7 (which results in the colorfull #9 and b13).  The same scale in C will also work over the relative A minor 7 (which results in a rootless scale with a natural 9, a minor 3, a #11, a 5th and both a b7 and major 7).  Lastly this same  scale in C will work over the both dominant 7th chord G7 and the dominant 7th chord D7  (This is the use of the scale that was covered in Lesson 7), although I prefer it over D7.
Since this scale is contructed of two augmented triads a half step apar,t it is symetrical and therefore one group of 6 notes (one scale) creates three identical structures a major 3rd apart (3 scales come from one set of notes, similar to diminished or whole tone scales).  There are ostensibly  only 4 distinct groups of six notes (or scales) to cover all 12 keys, although I like to think of each scale independantly in all 12 keys to insure that your analysis is specific to the root of the moment.
~ Enjoy!
Lesson 96: Augmented Study- PDF
You can sing while visualizing the fingerings/numbers or play along with the midi mp3s below: Each track starts on Concert C and continues around the circle of 4ths.
Melody only 60 bpm:
Melody only 120 bpm:
With Bass/roots Major 120 bpm:
With Bass/roots Major 60 bpm:
The Relative minor version of the study will start with Concert A minor and continue around the circle of 4ths.
With Bass/roots Minor 60 bpm:
With Bass/roots Minor 120 bpm: